Pipes Complying with API 15S
Products
The flexible composite high-pressure conveying pipe designed and manufactured by Safdal can be used for transportation of oil, gas, sewage, etc. Various materials can be selected to make the pipes, depending on the service temperature.
For pipes intended for transportation of corrosive gas with high H2S content, our company solves the problem of H2S gas permeation by means of multi-layer co-extrusion of PE and EVOH. We also developed a technology involving automatically punching holes in the outer sheath of the pipe to discharge the gas accummulated in the reinforcement layers of the pipe. The accumulated gas can also be discharged by adding vent holes or installing vent valve at the pipe end connectors.
Pipeline pigging is necessary for some applications. For this pourpose we have developed a special connector swaging method, by which equal connector inside diameter and pipe inside diameter can be achieved to facilitate pipeline pigging.
The delivery medium is
| | | | |
| --- | --- | --- | --- |
| Water | Crude | Natural Gas | Spring Water |
| Combustible Ice | Brine | Alkaline Water | Nuclear Waste Water |
WHY RTP PIPE
WHY RTP PIPE
Non-toxic and Environmental Friendly
RTP pipe can be recycled and thus the overall cost can be reduced.
Low Overall Installatio
n Cost
long pipe length,flexible, coilable,less joints,easily transported,and easy & fast installation.
Highly Adaptable to Various Terrains
RTP pipe c

an be easily bent along the way without being affected by soil movement and uneven settlement of the pipe foundation.
Able to keep leak/crack free even when subject to severe deformation.
Resistant to High Pressure
Standard nominal pressure is from 2.5 to 32 MPa, and pipes beyond this range can be tailor made upon client's requirements and/or service condition.
Not Prone to Scale/Paraffin Build-up
So smooth inner wall is maintained and freater flow rate is achieved.
Excellent Corrosion Resistance
Even better resistance to H
2
S, CO
2
, and Cl- when UHMWPE is used as pipe liner.

Oil and Natural Gas Industry
High pressure water injection, oil and gas gathering and transportation, natural gas transmission and distribution, transmission of chemical agent and produced liquid in tertiary oil recovery.

Transmission of coalbed methane, firefighting water transmission, nitrogen injection and slurry transportation.

Transmission of special fluids.

Water supply and drainage, special fluid transmission.

Potable water supply, hot spring water transportation, irrigation and transportation of nuclear waste water, slurry and coal ash.
Pipe Structure
Pipe Structure
RTP flexible composite high-pressure conveying pipe is basically a three-layer structure
1.Liner
PE80, PE100, PERT, PE-X, UHMWPE, PVDF, etc.
2.Reinforcement
Steel wire rope (or steel strip), aramid fiber, fiberglass, polyester industrial filament, etc.

The pipes shall have two or more reinforcing layers, depending on PN class of pipes.
3. Cover
Normally HDPEwith anti-agingadditives and UV stabilizer.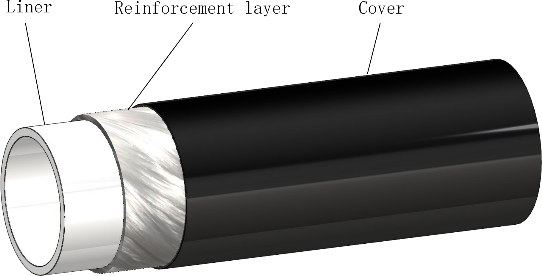 I. Pipe Diameter and Nominal Pressure
The nominal diameter for all sizes 3 inch and greater shall be in half-inch increments and the minimum allowable inside diameter shall be no smaller than nominal diameter minus 1/2 inch. Below 3 inch nominal diameter, the minimum allowable inside diameter shall be no smaller than nominal diameter minus 1/4 inch.
Examples of dn 2 to 6.5 inches are shown in Table 1.
Table 1 Pipe Diameter Specified in Terms of Nominal Diameter
Nominal Diameter Dn (in.)

2

2.5

3

3.5

4

4.5

5

5.5

6

6.5

Minimum Inside Diameter

(in.)


1.75

2.25

2.5

3.0

3.5

4.0

4.5

5

5.5

6

Nominal Pressure

(psi)


≤4700

≤3700

≤3700

≤3000

≤3000

≤2000

≤1800

≤1800

≤1600

≤1600
II.Maximum Operating Temperature
The maximum operating temperature of the pipes depends on the temperature resistance of both liner and reinforcing materials. The details are given in Table 2.
Table 2 Maximum Operating Temperatures of Pipes with Different liner and Reinforcing Materials (Buried)
| | | | | |
| --- | --- | --- | --- | --- |
| No | Liner Material | Reinforcing Material | Cover Material | Maximum Operating Temperature |
| 1 | PE | Polyester Industrial Filament | PE80 level | 65°C |
| 2 | PE-RT | Polyester Industrial Filament | PE-RT Ⅰ Type | 70℃ |
| 3 | PE-RT | Aramid ilament | PE-RT Ⅰ Type | 75°C |
Note: For example, the transmission layer and shell materials on the ground are made of heat-resistant polyethylene, the reinforcement layer is made of aramid filaments, and the maximum use temperature of the medium is less than or equal to 65°C.
For product data sheet, please contact us at office@safdal.com